Marine coatings and Care Line
Sport polish
UV-rays and contaminants in the water and in the air attack gelcoat surfaces and
paints, leaving them dull and porous.

Conventional polishes and coatings:
Can only suspend this process insufficiently and only for a short time.
They are also very time-consuming to apply.
The aggressive solvents of these products often penetrate deeply into the surface
and thereby complicate any possible repairs.
Regatta keel boats which are in the water for several days without antifouling
paint are quickly covered with sediment. Conventional polishes and waxes are
also ineffective here
With SportPolish, matt and weathered surfaces
can be polished to a high finish and permanently
sealed.
For optimum results, the surface must be smooth,
not rough or sticky.
Regatta keel boats which are in the water for several days without antifouling paint are quickly covered with sediment. Conventional polishes and waxes are also ineffective here.




Sail like the world champions!
Champions place their trust in HOLMENKOL – the license to win.
Aquaspeed
The ultimate hull finish which reduces frictional resistance and protects against dirt.

Reduces surface friction between the hull skin and water by up to 45% (confirmed by flow channel tests carried out by the Technische Universität München).
Temporarily reduces fowling in the underwater area.
Simplifies the cleaning of keel boats during regattas.
Optimizes hull performance during regattas.
Optimum performance in the water for up to 7 days, therefore ideal even for longer events.
Reduces dirt and contamination from transportation and keeps cleaning to a minimum.
Also ideal for surfboards, wakeboards, water skis and kite boards.







WoodCleaner + Brightener
Although teak is a naturally durable and hard-wearing material, environmental influences such as UV rays, water and dirt can have a seriously detrimental effect on the wood.

Teak can consequently become grey, algae and moss can penetrate the structure of the wood.


Up until now, cleaning and sealing teak wood has been extremely problematic. Acidic and aggressive cleaners attack joint sealants, gel coats and paint. Mild soaps do not clean heavily soiled surfaces adequately.
Gentle yet extremely effective deep cleaning for
open-pore wood surfaces.
Stains can be simply removed.
The surface of the wood takes on a uniform cleanliness.
2in1: cleaner and brightener all-in-one.
Ideal basis for sealing with WoodProtector.
Quantity sufficient for 6 – 8 sq.
| | |
| --- | --- |
| | |
| before | after |
WoodProtector
Teak oils are extensively used for refreshing the teak wood on boards. However,
long-term sealing is problematic.

The teak oils used:
provide only short-term protection against moisture,
gather dirt,
make teak decks slippery,
provide no protection against UV rays.

The wood is not protected and weathering continues unrestrained.

Other seals also provide only short-term protection against moisture and provide no protection against UV rays.

HOLMENKOL Nano wood seal
Restores the original, natural colour of the wood surface.
Protects against moisture, salt, algae and moss.
Has an extremely high and very long-lasting UV
protection factor.
Wood decks remain completely non-slip.
Significantly reduces greying.
Simplifies wood care.
Excellent penetration.
High level of stain resistance.
Water-based, environmentally friendly.
Quantity sufficient for 60 – 100 ml/sq.m.
In combination with WoodCleaner + Brightener, WoodProtector helps restore the original wood colour.

Seal'n Glide
Sails are not only the most important but also the most noticeable components of a boat or a surfboard. Mechanical stresses (maneuvers, heavy winds) and environmental forces (water, salt, UV rays) themselves form heavily even on modern cloths and foils. It is specifically wet sails that reduces the performance and service life of the sail.

Faster – Lighter – Easier
Boosts the performance of woven cloths, laminates and foil sails.
Improvement of glidability/rolling behavior (considerably easier trimming, setting and recovering mainsails, genuas, spinnakers and gennakers).
Considerable reduction of friction in the mast groove and profile forestay.
High water and dirt-resistance.
Reduction of mildew spots that have formed.
Increase in the breaking load of sails without increasing the weight on the sail.
Optimization of aerodynamic properties.
Smoothing and improved look of the sailcloth (for used sales etc.).
Very long life.
Resistant to cleaning chemicals.
Quantity sufficient for 50 – 80 sq.m.
Also available as Kite/Surf Set.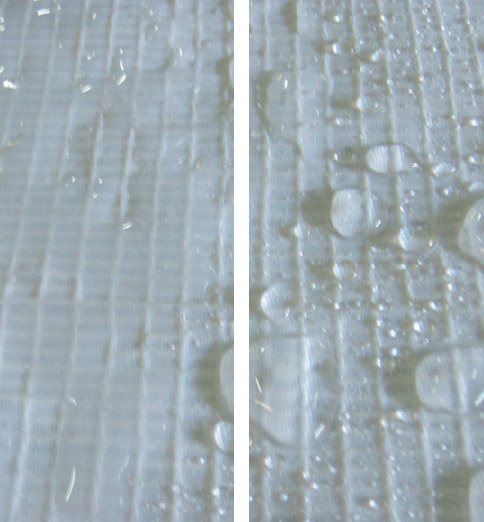 See the HOLMENKOL difference:
The right hand side of the sail is treated with SealnGlide. The droplets simply roll away. What this means in practice is a drier, lighter, cleaner and more efficient sail that is easier to handle.
Glide spray for fitings
Blocks, travel tracks and slides, masts and profile forestay grooves as well as other movable parts of a boat should have as little friction as possible. Salt water, dirt and friction considerably increase the friction and make maneuvers difficult.

Furthermore corrosion forms on the fittings and the risk of material breakage.

Many lubricants reduce friction only for a very short time and often tend to attract more dirt.









Oil-free nano glide spray for fixtures made of metals and plastics
Ensures smooth running of deck hardware, blocks,
traveler tracks and slides, masts and riggings.
Invisible application on luff and sails.
Repels water, dirt and salt.
Does not leave behind any oily residues.
Very high friction stability.
Enormous gripping action.
Extremely large number of uses.
Very economical to use.
High-tech waterproofing for tarpaulins and boat covers - Powerimpregnation
UV-light, salt and rain water, moss formation and guano form heavily even on modern tarpaulins and spray hoods. The materials are bleached out, the tensile strength reduces and the water repellent effect is reduced.
Simple tent waterproofing quickly loses its effect and does so even more quickly for thin nylon fabrics.

Heavily water, oil and dirt repellent Lotus-Hybrid-Matrix.
Mold and rot-inhibitive.
Prevents early aging.
Long durability and friction-stable.
Gives the textile maximum breathability.
Environmentally-friendly aerosol spray prevents the formation of drops and clogged nozzles.
Easy application: Immediately stable without heating.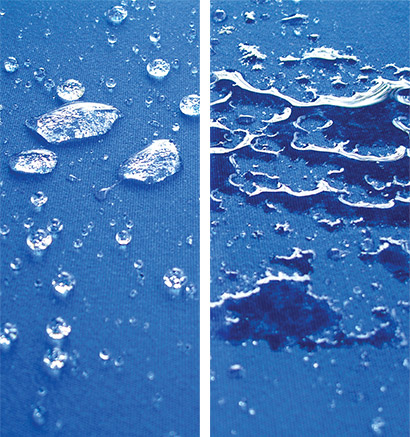 See the HOLMENKOL difference!
On the left hand side of the picture the tarpaulin was treated with PowerImpregnation. The water drops are repelled and
roll off. On the right you can see the effect of a competitor's product.