You can pay by:
Bank transfer - prepayment
Credit cards (Visa, Mastercard. Maestro)
Paypal
All prices include 22% Slovenian Vat, except for countries outside of EU and companies registered in EU VAT system.
The system calculates tax for your country in shopping cart before finishing your order.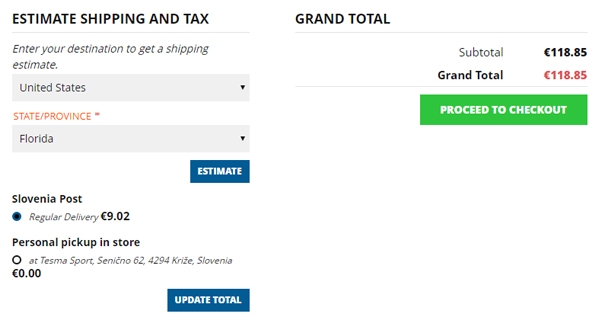 1.PREPAYMENT
To make a payment, simply transfer the total amount of your order to our bank account. Wait until you get confirmation mail for your order and proforma invoice!
Please make sure that you transfer the amount without fees for the recipient. Please indicate your order number and the name the order was placed under (e.g. John Smith 1164-2010).
As soon as the payment reaches our bank account, your order will be sent off to you. Please note that a transfer can take up to 4-5 working days. We can only dispatch your order once we have received the money on our account. This also applies to GLS deliveries!
If you are from a different country within the EU, please indicate our BIC and IBAN code during your credit transfer, in order to avoid having to pay foreign transfer fees.
If you are not within EU, please check what are your bank fees.
2. WITH CREDIT CARD or PayPal
We accept the following credit cards: Visa, Visa Electron, Mastercard.
Payment process
Please keep the details of your credit card institution, the name of the credit card holder, the credit card number and the date of expiry prepared. This information is required for the ordering process.
Initially, the sum will only be reserved on your credit card – it will not yet be charged. Your credit card will only be charged once your order has been sent for delivery. Naturally, if the order is not completed or not sent off for some reason, your credit card will not be charged.
If you have not completed the payment process during your order, you can always do so at a later time. Your order will be processed as soon as you have completed the payment.
100% secure payment
Your safety is our first priority, and therefore your personal details are handled with utmost caution and highest security standards. To safely transfer customer data and especially credit card details, we use a secure transfer method – known as the "Secure Socket Layer" (SSL) transfer and 3D Secure.
Verification of your credit card
In some cases, it may be that you are required to verify your credit card. You will receive an e-mail concerning this. You have to send us then a copy of your credit card (only the front side, so that the last 4 numbers and the name of the credit card holder are visible) as well as a copy of a valid ID (identification card, passport or driver's license). These measures are for your own safety, in order to ensure that no one else tries shop with your credit card!
If you have any further questions about paying by credit card send us email.
PAYMENT WITH CASH or CREDIT CARD IN OUR STORE IN SENIČNO
If you decide to go with advance order, you can make a purchase according to favorable internet price list at the listed address (selection in the 2nd step of the basket) and with cash payment or credit card (prices will be 3.5%higher). Attention: we don't have all the products in stock in the store! We will notify you through e-mail address when the ordered products will arrive in the store. Products can then be purchased at the latest within three working days from Monday till Friday between 9.00 am and 18.00 pm or Saturdays 9.00-13.00.
COMMON QUESTIONS AND ANSWERS
If you didn't find the satisfied explanation on this page send question to [email protected]
Shipping to non-EU countries
We ship worldwide, also to other Non-EU Countries. You can purchase your order online minus 22% VAT. We sent orders to Non-European countries with POST, DHL and other forwarders. When sending international packages, every country has its own rules and regulations. Your will have to pay taxes and possible customs fees in your country.
Deliveries will be made in the morning, if you cannot be reached on delivery, postman leaves a notification and package can be picked up at the nearest post office.
For bigger circumference of packages than 300cm and items longer than 150cm prices vary from country to country. After receiving your order, we will let you know if there are some additional shipping charges.