We send your orders WORLDWIDE.
All applicable custom fees, taxes and duties are the sole responsibility of the customer. Customs policies vary from country to country - please consult your country's customs office for an accurate estimate. All international packages (if not in EU) are subject to possible customs delays.
FREE DELIVERY ( with GLS ) for orders over 200 Eur for European Countries listed below:
Austria, Croatia, Belgium, Czech Republic, Denmark, France, Italy, Lithuania, Hungary, Germany, Netherlands, Poland, Slovakia, United Kingdom, Serbia, Montenegro.

Free delivery option is not accepted for Liski poles, mattresses, liski nets, longer skis and items longer that 150 cm.

SHIPPING prices and TAX for your country can be calculated in the shopping cart before placing your order.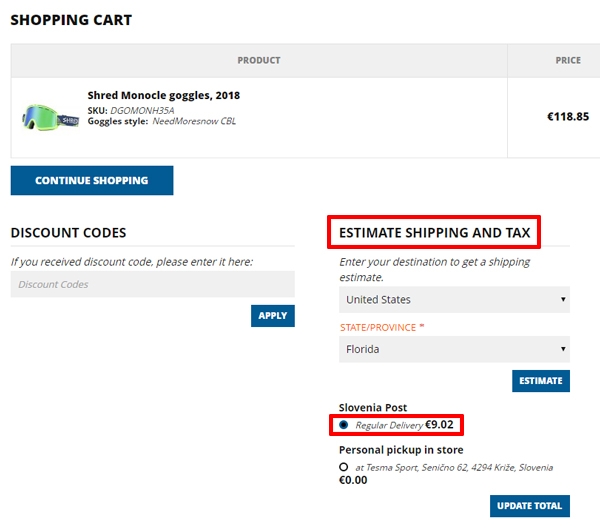 WHEN WILL MY ORDER SHIP?
Your order shipped email will have your estimated delivery dates. We work really hard to meet or beat these estimated delivery dates. Once your order ships, you will receive a shipping confirmation email with tracking, sent to your email associated with your TesmaSport account.
Items that are in stock are typically delivered within 1-6 days of your purchase. In order to bring to you, exclusive savings and a fresh rotation of new brands and products each week, some of our offerings are pre-sales, meaning we receive shipments from our suppliers in batches, which often extend shipping times by a week or two.
WHAT SHIPPING SERVICE PROVIDER DO YOU USE TO SHIP?
We primarily use GLS, Fedex, UPS and POST to ship merchandise. GLS can generally get a package anywhere in the EU within 2-6 business days. We ship internationally with Post slovenia and bigger and heavier packages with Schenker or Intereuropa and it takes usually 4-15 days.
If you are in a hurry, please write in comment that you need express delivery with Fedex or UPS and we will send you offer.
HOW MUCH DOES SHIPPING COST?
There are several different prices depending on shipping method, weight and length of package and means of payment. Before finalizing your order, shipping costs are calculated in your shopping basket. Many products ship for free, another start from 8 eur and on. Sometimes products we sell are bulky or heavy or fragile and we need to charge an additive shipping rate, which will be clearly stated in an email that you will receive before sending your order. Additive shipping items are additive to any standard shipping items in your cart. Please email [email protected] if you have more questions.
Receiving your delivery to EU with door to door service (GLS):
It is extremely important that you provide an address where someone will be present to accept the delivery. Please note that the package can NOT be left at a post office!
If no one is present at the delivery address when your delivery arrives, the courier will try again the next day. If no one is present to accept the package on the second attempt, the package will be returned to us.
However, you have the opportunity to provide us with a different delivery address (e.g. work, neighbor, etc.) – that way, you can ensure that someone will be available to accept the package upon arrival.
If you wish to change your delivery address at a later date, please contact our customer service. If you would like to change the address although your package has already been sent, please contact the responsible delivery service by telephone. You will need your package number.
PARCEL TRACKING GLS:
You can follow the path of your delivery at any time with the package tracking service. Your parcel number and the according link will be sent to you by E-Mail on the day your delivery is sent off.
Please make sure that your name is clearly visible at your door, so the courier won't have any problems finding you!
SHIPPING to Russian Federation
We can send only packages of maximum length 1 m and maximum dimensions of 1m × 1m× 1m.
If you have registered company we can send bigger packages. Please send us inquiry before placing an order.
SHIPPING to non-EU countries
We ship worldwide, also to other Non-EU Countries. You can purchase your order online minus 22% VAT. All orders which are sent to Non-European countries are sent with Post Slovenia or Fedex. When sending international packages, every country has its own rules and regulations. You will have to pay taxes and possible customs fees in your country.
Lighter packages up to 1kg and orders outside of EU are sent with Post Slovenia. Please check with us for transition times.

Deliveries will be made in the morning, if you cannot be reached on delivery, postman leaves a notification and package can be picked up at the nearest post office.
For bigger circumference of packages than 300cm and items longer than 150cm prices vary from country to country. After receiving your order, we will let you know if there are some additional shipping charges.
| | |
| --- | --- |
| Country | Transit time GLS |
| Austria | 1 day |
| Belgium | 2-3 days |
| Bulgaria | 3 days |
| Croatia | 1-4 days |
| Czech Republic | 2 days |
| Denmark | 2-3 days |
| Estonia | 3-4 days |
| Finland | 4-6 days |
| France | 2-3 days |
| Germany | 1-3 days |
| Greece | 3-4 days |
| Hungary | 1-3 days |
| Ireland | 3-5 days |
| Italy | 1-3 days |
| Latvia | 3-5 days |
| Lithuania | 4-5 days |
| Luxembourg | 2-3 days |
| Netherlands | 2-3 days |
| Poland | 2-3 days |
| Portugal | 3-5 days |
| Romania | 2-3 days |
| Slovakia | 1-2 days |
| Slovenia | 1 day |
| Spain | 3-5 days |
| Sweden | 2-4 days |
| United Kingdom | 2-3 days |
| Rest of the world (with Post Slovenia) | 4-15 days |
We accept orders for Trione machine just for: Croatia, Monte Negro, BIH, Macedonia, Serbia, Kosovo, Albania, Poland, Slovakia, Ukraine, Belorussia, Turkey, Romania, Bulgaria, Hungary, Czech Republic(Aspen Sport).