SportClean
High-tech cleaner and degreaser for metallic components

Developed for oily and greasy items such as chains, sprockets and derailers
Cleans reliably without leaving residues
Optimum preparation for further treatment with lubricants (LubeExtreme)
Removes even stubborn dirt (e.g. oil, grease and tar) from cavities
Drips less than conventional chain cleaners, ensuring more effective handling
APPLICATION
Spray SportClean onto metallic components (e.g. the chain). Allow a short period of time for the product to take effect. Remove using a cloth.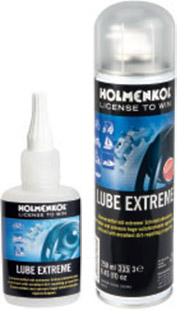 LubeExtreme
When you use oily lubricants, dirt sticks to the bike chain, acting like abrasive paper and accelerating the wear and tear of sprockets and chain links. LubeExtreme is highly dirt-repellent and offers sustainable chain protection along with a long-term lubricating effect.


Nano lubricant with extreme dirt repellence
Minimises dirt sticking to the chain, even under extremely muddy conditions
Outstanding creep behaviour and excellent lubrication effect
Contains an extremely powerful corrosion protection agent
Clear reduction of corrosion, abrasion and wear
Thanks to reduced soiling, it is easier to clean chains, sprockets, derailers, brake and gear cables, blocks, etc.
Also available in the tried and tested 250 ml aerosol version
APPLICATION
First clean with SportClean. Then evenly apply LubeExtreme. NOTE: Do not spray LubeExtreme onto the brakes. After application, shift all gears to ensure that the lubricant is evenly distributed across chain links and pinions. Give the product a short time to take effect.

Natural Bike Lube
Biodegradable lubricant with optimum sliding properties and very good adhesion to the chain.

Reliable protection against wear and corrosion for
bike chains
sprockets
derailers
hubs etc.
APPLICATION
First clean with SportClean. Then drip on Natural Bike Lube and distribute.
NOTE: Do not apply Natural Bike Lube to brakes. Immediately ready for use.proti obrabi in rjavenju.

Bike Wash
Cleaning with water often results in stains or surface rust. Special cleaning ingredients facilitate cleaning difficult to reach areas and reduce the adhesion of dirt particles.
Special cleaner for painted, metallic and carbon surfaces
Allows easy & convenient cleaning of the bike
Reduces the accumulation of new dirt
Prevents water or lime stains on the bike frame
Can be rinsed off without leaving a residue and gives shine (rinse-off and shine effect)
Prevents corrosion
Tensides are biodegradable
Suitable for carbon frames
APPLICATION
Remove loose dirt using a sponge, cloth or brush. Spray BikeWash onto the bike and leave
until the dirt starts to come away. Rinse off with clean water.

DirtProtector
Dirt-repellent, high-tech, non-stick coating for bike frames
Extremely dirt, water and dust-repellent
Water and oil roll off the surface
Replicates the surface structure of the self-cleaning lotus leaf, reducing dirt accumulation by up to 80%
Protects against corrosion
Suitable for carbon surfaces
APPLICATION
Clean the bike frame using BikeWash and allow to dry. Spray on a thin layer of DirtProtector.
Do not spray onto brakes and rims! Allow to dry. Do not touch while drying.