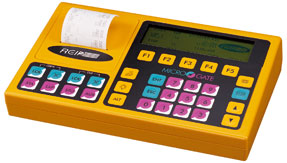 REI2 is a professional chronometer of innovative conception which makes it possible to satisfy all timing requirements in the various sporting disciplines.
Wide range of programs available
Possibility of connection to the Linkgate radio transmission system
Possibility of dialogue with computers
Can be used with a vast range of displayboards
Large back-lit graphic display for easy interfacing with the operator

Its large graphic display which guides the user step by step in the management of the competition and the keyboard, designed so as to maximize efficiency and speed of data input and correction, provide a simple user-friendly interface. The wide range of software programs available and the possibility of connection to the Linkgate radio transmission system ensure that REI2 is very flexible to use.
REI2 can acquire data from a computer and store athletes' names and starts. It is therefore possible to display competitors' names on the chronometer display and the displayboards without using a computer on the competition field. Thanks to powerful software, REI2 makes it possible to manage the display of results on the displayboards with great flexibility according to the type of competition and the displayboard available.