Leki trekking and nordic poles features for 2017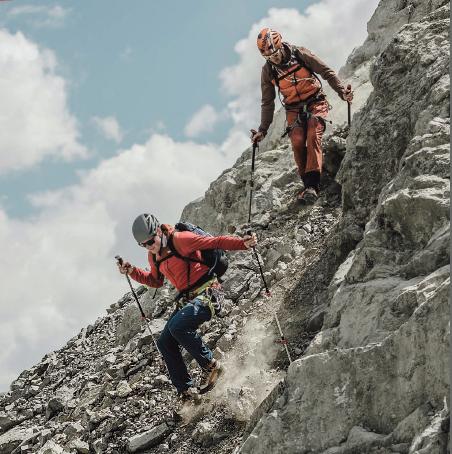 Excellent service for durable high-quality products – a part of the LEKI philosophy High-quality products save resources best. We are proud that LEKI products are famous for their long wear-life. With our parts availability guarantee and our outstanding repair service we prolong the functionality and life of our products and strengthen the competence of our partners in the specialist trade. In addition, LEKI issues guarantees which exceed the legal terms by far.
Life-long warranty on material and manufacturing defects
10-years availability on all wear and tear parts
Leki Speed Lock2 - Worldwide best external locking system Worldwide Speed Lock was the first and only external locking system which has been certified by the TÜV Süd. The TÜV standard of 55 kg is exceeded by far a safety reserve, which can safe lives. The locking force can be readjusted at any time.
Highest locking force of all external adjustment systems available on the market for extra safety
Extremely fast adjustment and fixing even whilst wearing thick gloves in rain, ice and snow
Simple and easy to use mechanism
Security screw with +/- indicator
1/3 smaller
1/4 lighter
20% higher locking Force – at least!
Leki trekking poles

Terrano

Leki trekking poles

Softlite

Leki ladies trekking poles

Cressida
Leki Super Lock SLS - worldwide best internal locking system
The worldwide highest locking security LEKI Super Lock System - SLS
maximum security reserves
highest holding force in the test > 140 kg per pole
highest locking security for highest back turn security > 360
Leki trekking poles

Makalu

Leki trekking poles

Voyager

Leki trekking poles

Trail
Leki micro sticks poles with micro vario system
Non-slip mid grip extension for maximum comfort, Smoothly change length by 20 cm with the Speed Lock System, approved by the TÜV Süd push Button release mechanism for fast and simple assembly and collapse
Filigrane high performance tensioning rope reinforced with sturdy pE coating for lifelong protection of the fibers.
Strap with security release function, aergon Grip in shell cavity construction for extreme lightweight , a spring in the lower shaft guarantees maximum tension and automatic rope length compensatio Special aluminum Titanium sleeves protect the high modular carbon fibers and guarantee a perfect connection of the sections [VIDEO]
Leki Ladies trekking

Micro Vario Carbon

Leki trekking poles

Micro Vario Titanium
Aergon grips - Large aErGonomic support area on top of the grip for secure hold.
an edgeless outer shape off ers a variety of gripping options.
Biotec 2 - Extremely lightweight shell cavity construction.
pa saFety system (lightweight technology) Shell cavity Security Strap - adjustable
integrated security system - releases quickly when pulled upwards
Easy to adjust
maximum comfort, breathable and extremely quick-drying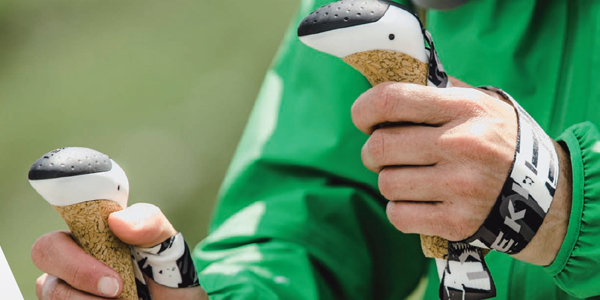 LEKI is the only pole manufacturer that pre-grinds all shafts to ensure optimal pretreatment for further machining steps. Shafts are degreased and cleaned in a chemical-free, environmentally friendly manner. LEKI offers various methods for treating pole surfaces, which are all refined by the final sealing process.
ALUMINIUM - LEKI's top poles use only high-strength aluminium shafts (as those used in aircraft construction) and refuses other, possibly more cost-effective material qualities. These are prepared and cured through a process specially developed by LEKI. Shafts processed this way deliver superior stability to withstand extreme conditions and applications. It is thus no surprise that LEKI's high technology standards result in long-lasting and durable shafts and designs. LEKI quality is legendary!
CARBON - Carbon fibres result from complex carbonization processes of synthetic polymer fibres or organic substances. These processes yield a fibre mesh that is approximately eight times thinner than a human hair. In turn, carbon fibre shafts presents an extremely high stiffness and bending capacity with very low specific weight.
Innovative painting process
LEKI contributes to the protection of the atmosphere by using water-based paint systems and introducing emission-free powder varnish technology. The use of high-tech painting systems and sophisticated paint circulation solutions allows for the near-full recycling of all coating materials used. All processed coatings and printing inks are free of compounds containing heavy metals and harmful AZO dyes.
Wet paint method
Several layers of paint are applied to the prepared shafts. The surface is thereby sealed and protected.
Powder coating Powder is applied in several layers by means of nozzles onto the shaft, baked at high temperatures in the oven, and then dried.
Anodic coating
In this coating technique, aluminium shafts undergo a chemical process. The result is a high-quality, super resistant, and virtually scratch-free surface.
Leki Micro sticks [VIDEO]
Published: 5/29/2017 2:41 AM
« Back